Our breeding mares
The American Paint Horse breeding mares of the Eagles Ranch have been selected for their good character, various and proven bloodlines with perfomances in Westernsports by their ancestors, various heights together with the breed characeteristic exterior features of the Paint Horse and various colours and colour patterns.
Character inherited
The breeding mares are important in the breeding programme of the Eagles Ranch. They pass down 85% of their features to their offspring, so mares should be healthy and have extremely good characters.
Delivery of foals
Every year The Eagles Ranch expects its first foals in early spring.
READ MORE (Dutch only) >>
Living in herds
The breeding mares stay in herds outside in the pastures all through the year. A few weeks before delivery the mares are taken to the ranch to prepare for the oncoming birth in specially equiped large stables of the ranch where room and quietness is secured. As soon as the foal is strong enough mare and foal go outside in the daytime in the large paddock or in the pastures around the ranch.
Expected foals: http://sales.eaglesranch.com >>
Breeding mares of the Eagles Ranch
Eagles Qton Smart Lena Bay Tobiano Pedigree Sire: Bears Q Ton Poco Brana Chestnut Overo Pedigree Sire: Ho Chees Royal FM Sonic Boom Sorrel QH Pedigree Sire: Peek A Boom Eagles Qton Sonny Shu Dun Tobiano Pedigree Sire: Bears Q Ton Poco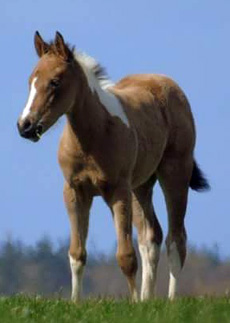 Eagles Yoka Magic Cat
APHA: 1,059,406
Bay/Buckskin Tobiano
Sire: Oshanee Heyoka
Dam: Dirty Calico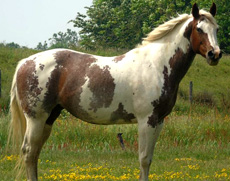 Ninas Peppy
APHA: 721,896
Chestnut Tobiano
Sire: Dandy Breeze Cash
Dam: Rios Lacy Lady
Eagles QSmokin Nala
APHA: 1,048,952
Palomino Homozygous Tobiano
Sire: Hickorys Gunsmoke
Dam: Eagles Qton Smart Lena
Eagles Gunsmoke Elsa
APHA: 1,048,703
Smokey Black Tobiano
Sire: Hickorys Gunsmoke
Dam: Dirty Calico
Former breeding mares